Privacy Policy
We promise to never sell or share your data and operate under the highest standards of ethics and integrity.
We collect:
names
addresses
phone numbers
e-mail addresses
IP addresses
access dates and times
Your information may be collected in any of the following situations:
cookies
surveys
web forms
registration for an event or course
newsletter sign-up
when placing an order
We collect your data in several ways including when you choose to share it with us, when you shop with us or engage with our digital properties, and from our affiliates and partners. We intend to comply with applicable laws no matter how we obtain your data.
How We Protect Your Data
The privacy and security of your data is important to us. We use digital and physical security and process controls to protect your data. We encrypt and anonymize data where we can and it makes sense. Even inside our company, we limit access to your data as much as we can.
MINORS Under age 13. We do not want to and do not knowingly collect any data from people under age 13. If we learn that we collected any such data, we will take all reasonable measures to delete that information and to not use it for any purpose (except where necessary to protect the safety of the child or others as required or allowed by law). If you become aware of any personal information we have collected from children under 13, please contact us at the email address listed below.
Under age 18. People under 18 years of age may have data that they provide to us through our website deleted by sending an email to hello@wearesoulstudio.com requesting deletion. Please note that, while we make reasonable efforts to comply with such requests, deletion of your data does not ensure complete and comprehensive removal of that data from all systems.
DO NOT TRACK Do Not Track (DNT) is a privacy preference that users can set in some web browsers, allowing users to opt out of tracking by websites and online services. At the present time, the World Wide Web Consortium (W3C) has not yet established universal standards for recognizable DNT signals and therefore, we do not recognize DNT.
POLICY CHANGES This policy was last updated July 2nd 2020
CONTACT US: hello@wearesoulstudio.com with any questions regarding your information/privacy
If you don't want us to send you marketing messages anymore, you can contact us or simply unsubscribe at any time
Brand Collaborations
We love working with likeminded brands to collaborate on dye projects. Wether you're looking to add something special/limited edition to your line or another layer of sustainability, we'd love to help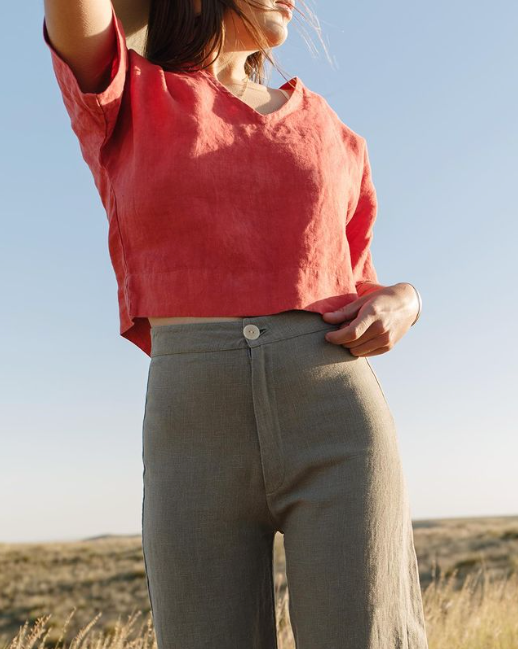 The June Top in Ruby shot by Parker Thornton
Together Segal Collab
In collaboration with Together Segal: a Petite Fashion Line, we hand-dyed a small batch of their designs using Madder Root
Quick links
Find Us / Reach Out
Austin, Texas USA
hello@wearesoulstudio.com