Process
Soul Studio merchandise is proudly produced in our facility near downtown Austin, Texas, where our goal is to inspire and empower others through Earth-friendly practices and accessible clothing and goods.
We begin every endeavor with research to provide the highest quality goods with the lowest impact possible. We hand dye our organic fabrics in house to provide unique outcomes and keep a close eye on quality. Nothing we wouldn't wear ourselves ever leaves our studio.
 Through years of experimentation and incorporated age-old practices, we have secured our signature method some might refer to as "grandmas recipe." Our small batch, heirloom quality goods feature couture sewing techniques to ensure a finish with attention to detail and a garment that showcases consistency.
Our deep reverence for nature inspires all of our dying materials- from barks to roots, petals to extracts, we are able to ensure an end product that Mother Earth doesn't have to foot the bill for. By honoring and employing biodegradable and renewable resources in our production we are able to get back to the basics of how clothes were meant to be. 
The fabrication and assembly process is closely monitored to verify our standards for ethical business practices are faithfully upheld. Close relations with all parties in fabrication, distribution, management, and support of our products are carefully fostered and always honored, making the workplace like our work more SOULstainable.
Brand Collaborations
We love working with likeminded brands to collaborate on dye projects. Wether you're looking to add something special/limited edition to your line or another layer of sustainability, we'd love to help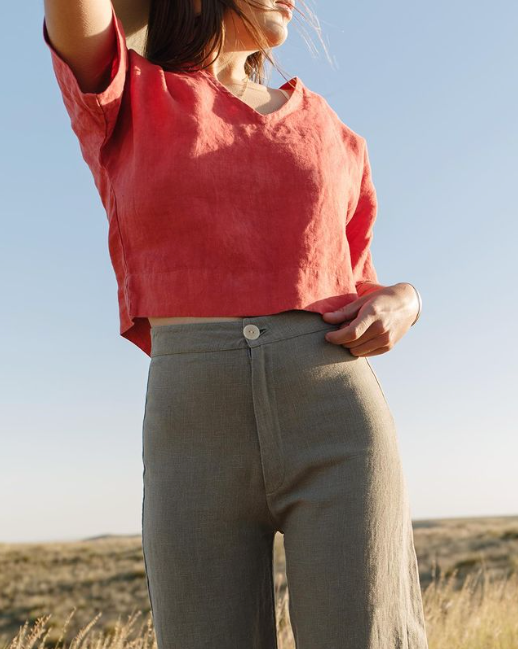 The June Top in Ruby shot by Parker Thornton
Together Segal Collab
In collaboration with Together Segal: a Petite Fashion Line, we hand-dyed a small batch of their designs using Madder Root
Quick links
Find Us / Reach Out
Austin, Texas USA
hello@wearesoulstudio.com