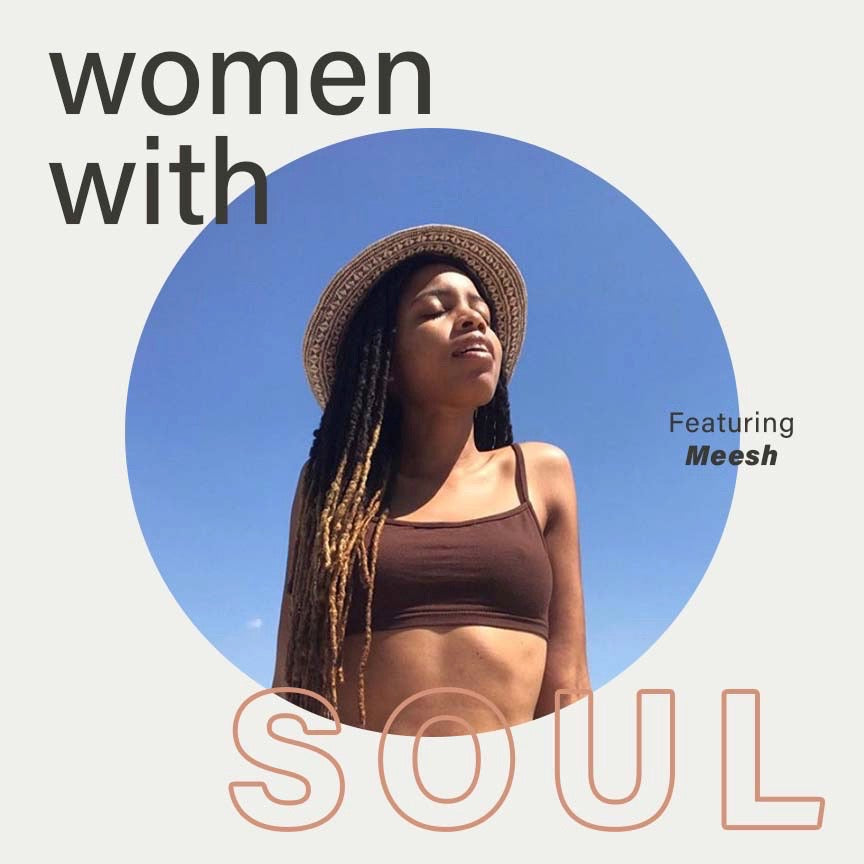 Posted on
---
As a female-founded and run company, we revel in our ability to connect with and elevate women who are shaping our world for the better. In this series, we'll be spotlighting some of the extraordinary ladies in our community who inspire us daily. 
Meesh Dot
Today we're sitting down with Meesh Dot ~ a taurus May flower who defines herself as an eco soul artist of color, weaving her love for Earth into all of her artistic endeavors. What exactly does a title like Eco Soul Artist entail? Well, her work spans a lot of creative territory. Part of her craft involves offering unique and 'soulful' experiences, including curated experiential Art + Earth gatherings, medicine bars, and guidance on how to live a more eco-conscious lifestyle– and it doesn't stop there. Meesh is also an international dancer, DJ, and model for ethically-minded brands (really, she does it all). She recently launched Earth Women of Color (earthwoc), which is a blog dedicated to giving women of color a platform to discuss art, earth, and their experience exploring it all.
1. How would you describe what it means to be an Eco Soul Artist? 



I weave art + earth into everything, because it's who I be in the world ~ from the depths of my soul. In July 2019, I had to create my deejay name for a big competition in Melbourne, Australia and meesh.eco (meesh dot eco) came to me. That was when I started identifying as an eco soul artist of color, because I felt a resonance to every aspect of what it embodied. I believe we are all artists and creative beings, so it feels really good to step into my own brand of magic. Whether it is leading chocolate meditations, offering tea rhythm rituals, or moving + grooving. An eco soul artist regenerates innately and with connection at heart.  
2. What led you to get into this kind of work?

my travels. I've lived + loved in 9 countries across 5 continents for the last 13 years, most recently for five years in Australia before returning to Austin March 2020. I attribute my parents for nurturing curiosity + wonder from an early age, as we always traveled locally and globally. and I'm always journeying. Even when nested into one place, I conjure my inspiration from people + planet. In this digital age, we have access to many resources and still the earth beneath my soles is home. 
3. We're really interested in the "earthwoc" (Earth Women of Color) project you've started. Can you tell us a little about the inspiration behind it? 

earthwoc is my earth work and evolving beautifully. I love the play on earthwoc sounding like earth walk, as it's me on the path in my purpose. magical meanderings around thirty countries, I've experienced the world through the lens of looking different from those around me. That was a catalyst for wanting to bring something into the world that exalts an identity I feel more aligned with than ever before. 
I'm creating a digital connection oasis, in the current climate, although I look forward to hugs again soon. Envision expressionism across many mediums such as blog, e-zine, visuals, and audio delight. I am earthwoc, an earth woman of color. It exist within art / earth / women / color and I am weaving them harmoniously. If it was a mood board I'd describe it as eclectic, green vibes. You will find insights + interviews, as I love conversation + collaboration.
4. What is your intention with this project/what do you hope to achieve through it? 

my intention is to elevate high vibe humans, who care about the earth + its inhabitants. My primary focus is celebrating women of color, and I'm also welcoming all the beautiful folk who connect with the frequency transmissions. I hope to achieve curating a space of bliss + beauty through experiences intertwining art + earth. I want to be of soulful service to the community with earthwoc and honoring the planet by growing together. Just be real AND have a good fucking time doing it. I have an eccentric style + playful free-spirited energy I will continue to show up with for this project and beyond. 
5. How do you stay inspired?

my labrador, pinky. I flew her over with me from Australia and roadtripped from LA to ATX. she had 23 puppies with Seeing Eye Dogs Australia whom I used to volunteer with. Her good nature, grace, strength, resilience, and joy are truly inspiring. I've always had a kinship to the animal world and as a taurus, I have a vibrant relationship rooted in earth. 
I don't put pressure on myself to create. Whether that means taking on alternate work to be financially sustainable or allowing more time for projects to evolve naturally. This creates a realm of spaciousness to stay inspired. My wellness + growth are of great value to me and staying open to organic inspiration, because I know it is constantly all around me. I feel that within. 
my greatest human inspirations are prince, bob marley, and jimi hendrix. My current inspirations are lizzy jeff + issa rae. My most intimate earth inspiration is trees. Think about what inspires you ~ what is it about their essence that inspires and weave that into your existence x
~
Follow Meesh and Earthwoc on Instagram <3 and stay tuned for a new interview every month highlighting an inspiring woman in our community
Quick links
Find Us / Reach Out
Austin, Texas USA
hello@wearesoulstudio.com