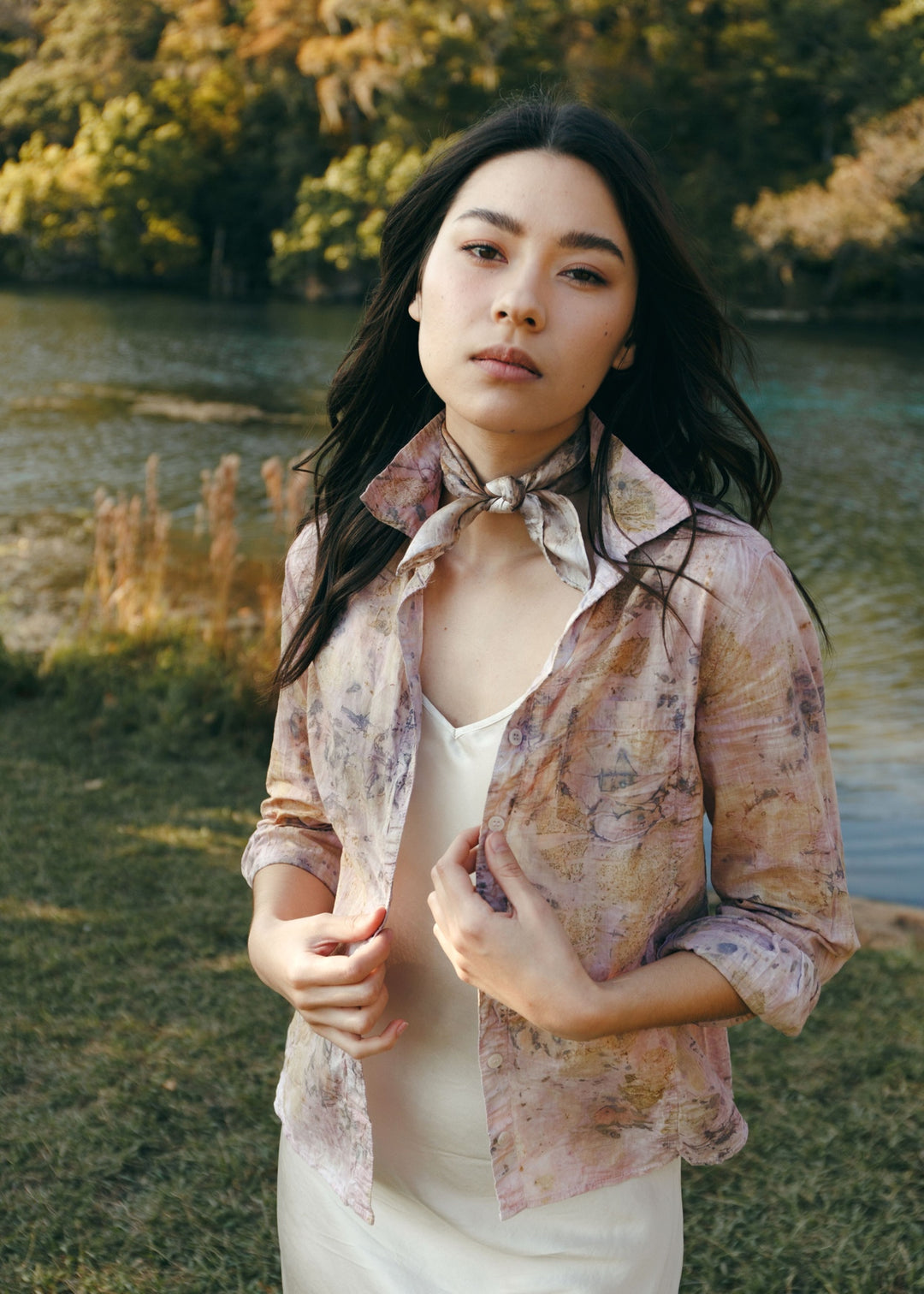 Posted on
---
You own a beautiful, sustainable, and non-toxic naturally dyed piece of clothing: we love to hear that. Now we know that getting used to caring for these unconventional dyes can be hard to grasp, but think about how much better these dyes are for your skin (non carcinogenic) and the planet! 
Our expert team is here to share! In this article we'll cover basic/everyday care and stain treating tips. Some of this info can also be found on the bottom of our site here as well in a condensed form if you're in a hurry.
Washing:
We recommend hand-washing your naturally dyed items to prolong their lifecycle. This also gives you a moment to slow down and truly appreciate your clothing, try it and see! 
Use a few drops of pH neutral and fragrance free detergent (7th generation, ECOS, Woolite, BioD are a few of our favorites) and cold water. Swish your piece around for a few minutes and then rinse.
When rinsing, use cold water and try not to wring your fiber, press to release water rather than twisting the fabric. Especially silk or linen, as this can wrinkle the fabric more and create more work for you later.
Avoid: Harsh stain treatments like oxy-clean, bleach, baking soda or any conventional stain treatment. These harsh ingredients and chemicals are not your friend when washing natural dyes. 
Drying: Hang dry out of direct sunlight (a good practice for natural dyes is to always store them out of direct sunlight which naturally bleaches them and fades the dye over time.)
Ironing: You can iron natural fibers (even silk) on the highest setting on your iron, we prefer no water in ours! Just be sure to keep the iron moving and don't leave it in one place too long.
Stain Treatment: Oh no, something happened to your beloved piece! No need to fear, we have great insight on restoring your piece back to new. Just remember to avoid the harsh stain treatments we mentioned above always
~
Acids (citrus, vinegar, tea, wine): Soak immediately or as soon as possible in cold water for 12-24 hours! This reverses the reaction of the acid with the natural dye! Afterwards hand wash it. If stain doesn't come out, repeat the soak
Alkalines: (natural deodorant/baking soda): The chemical reaction of alkaline substances and body oils can cause a stain sometimes, here's what to do if this type of stain occurs: Hand-wash with warm water and pH neutral detergent, soak at least an hour or overnight. Gently rub stains if needed with detergent. Repeat if needed
Blood: Lick your finger and apply your spit to the spot. This sometimes works, we all have a different bloodtypes. 
Pro-Tips:
The average person probably thinks they need to wash their clothing after every wear, this is (in my opinion) a marketing ploy from detergent companies that's been ingrained in our brain for many generations. 
Our vote, only wash clothing as needed. Less washing=less work for you, your fibers will last longer and you'll save water/detergent ($$$) 
-If your clothing is Silk (like most of Soul Studio's collection) then you need to wash it even less. Silk is naturally anti-bacterial and repels stains/odors/etc. Its a miraculous fiber, which is one of the reason we love it so much.
-Steaming is a quick alternative to give your piece a fresh feel, and if you haven't heard steam closets are a new appliance that are an incredible way to clean items without washing! Be sure to only do a quick steam so the heat doesn't harm your fiber. If you don't have a steamer, close your door while you shower and hang the item nearby, voila!
Quick links
Find Us / Reach Out
Austin, Texas USA
hello@wearesoulstudio.com