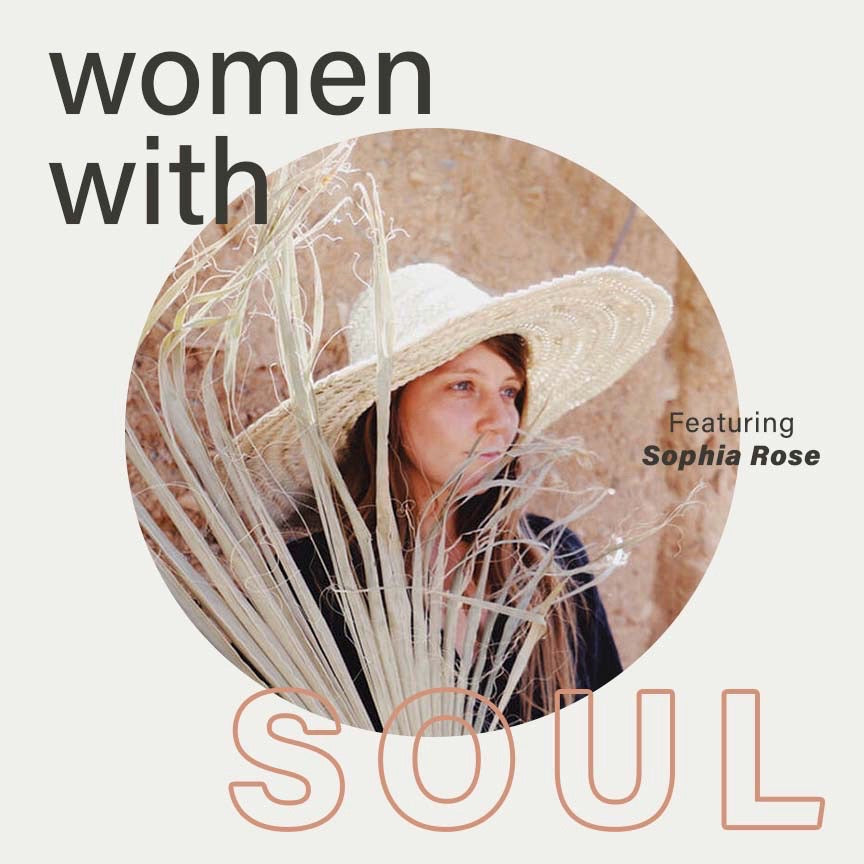 Posted on
---
Women with Soul Series
As a female-founded and run company, we revel in our ability to connect with and elevate women who are shaping our world for the better. In this series, we'll be spotlighting some of the extraordinary ladies in our community who inspire us daily. 
Sophia Rose:
To begin our series, we're talking plant medicine with the lovely Sophia Rose. Sophia defines herself as an herbalist, author, and small business owner. She got her start in herbal medicine after graduating from the North American Institute of Medical Herbalism by selling bottles of Rose Petal Elixir at local markets around the country. Since then, she's moved on to become the founder of La Abeja Herbs which operates here in Austin, Texas. 
Sophia's philosophy is that we all belong to the natural world and that everyone has the ability to connect and heal from it. And from that belief, she birthed "Garden Party"– an extensive online library that offers recipes, formulas, films, herbal how-to's, plant profiles, and everything in between. 
We had the pleasure of chatting with Sophia about a few things on our mind and the conversation was lovely and opened our hearts (we hope you feel the same): 
How did your interest in herbal medicine begin?
I have always been defined by my connection with nature. Growing up in South Austin, near Barton Springs, at age eight, I founded a club that I called the FEAA--Future Environmental Activists of America. I felt a deep sense of responsibility to speak out against the development that was threatening the greenbelt surrounding our homes. I convinced most of my classmates to join me, and we went door to door collecting the signatures of adults in our community who supported our mission. While the FEAA was short-lived, as so many childhood endeavors are, my love for the wild has only grown.
Working with plants is part of my calling. As someone who has always struggled with mental health issues, nature has been my refuge and the plants, my healers. Early on, I realized that Earth was the source of all nourishment and felt deeply saddened by our species' disconnection from the wider web of life. Plants are incredibly generous beings. For those who are receptive, they will share their wisdom and gifts readily.
While my journey with herbalism started out as a simple desire to understand which allies to use for which ailments, the plants quickly revealed a much more multi-dimensional reality to me. Being in direct relationship with the plants quickly shifts one's self-perception and cosmology. While in herb school in 2010, I was lucky enough the opportunity to be of service to both plants and people by making medicine for the clinic's apothecary. Through this immersive experience, I realized who I was and what I came to earth to do.
You talk about this idea of becoming intimate with nature and "getting back to the garden". Can you expand on what you mean by that?
We have strayed so far from being in right relationship with the Earth. We all come from people whose lives were deeply interwoven with the elements and whose days were spent stewarding the land which sustained them. Our joy, our pleasure, our fulfillment, all arise from this all but forgotten connection. Our needs are simple: nourishing food, loving community, and intimacy with the Earth. The feeling of sunshine on bare skin, the bitter taste of the first greens of springtime, the sound of birds greeting the dawn--these are what give our lives meaning. They are simple yet profound. They are freely available to all who know to seek them. 
How have you seen herbal medicine transform people's lives? And how has this path of herbalism changed your own life?
Plants change people. We don't even need to take their medicines into our bodies for this to be true. The influence a tree or a flower can have on the course of your life is enormous. When we develop a relationship with a plant ally, we begin to embody the wisdom and gifts of that plant. I often say that we take medicine so that we can become medicine. In this way, our presence becomes healing for other humans as well as the natural world. Plants are always praying, and they teach us how to make our lives a prayer.
We're experiencing a worldwide pandemic for the first time in our lifetime. How has this affected your business? Have you seen more people turn to alternative medicine to help prevent COVID-19?
It's yet to be seen how this pandemic will affect me and my business. I am slowing down and reflecting right now. Doing my best to act rather than react. I'm grateful that my company is both small and flexible enough to adapt quickly. So far, this experience has brought me more firmly into my calling. It has already burned away a lot of layers of fear and ego that have been preventing me from showing up fully and being of service. I'm grateful to have tools that people need, both when it comes to plant medicine and earth wisdom. I have definitely noticed that more people are listening to what I have to say, seemingly overnight.
What advice do you have for someone who is interested in trying plant medicine but might not know where/how to begin?
I would encourage you to join Garden Party! It's an accessible resource for beginning your journey with the plants. I would also encourage you to start slow. Like really slow. Get to know one plant ally at a time. Let the plant pick you. Take a walk near your home or notice what is growing in your yard. The medicine we need is often right outside our doorstep. Once you sense that a plant has chosen you, positively identify it, and then get to know it in every way you can. If it is safe to ingest, drink its tea. If not, simply sit beside it in meditation and see what messages it may have for you. There are countless ways to get to know the medicine of an herbal ally. As you would with your friendships, get to know a few plants deeply rather than many plants superficially. If you'd like to learn about more simple practices for creating relationship with the plants, I also recommend this beautiful resource I created along with visionary artist, Vanja Vukelic, called Listening to the Plants 
Quick links
Find Us / Reach Out
Austin, Texas USA
hello@wearesoulstudio.com